Why Is Elder Abuse So Common and What Can You Do to Stop It? Our Huntington Nursing Home Abuse Lawyers Are Here to Help
Adam Wheeler, an employee of Golden Harvest Nursing Home in Welch, West Virginia, was arrested by State Police after suspected abuse and neglect of elderly patients.
On December 28th, 2018, Senior Trooper Jared Tupper arrested Wheeler on, "three counts of abuse and neglect of incapacitated adults causing bodily injury, one count of abuse and neglect of incapacitated adults causing serious bodily injury, and four counts of crimes against the elderly," Tupper told Bluefield Daily Telegraph.
An investigation was opened after Wheeler was suspended for suspected physical abuse. The abused and neglected individuals ranged from ages 52 to 92.
Sadly, cases such as this happen more often than people realize. Considering the frequency of abuse and neglect in senior care facilities, many times, it is up to the loved ones of these individuals to put a stop to mistreatment. If you believe your loved one has suffered abuse at the hands of a nursing home staff member, please contact the Huntington nursing home abuse lawyers at Stewart Bell, PLLC. We can help you determine any legal action you may be able to take to ensure the well-being of your elderly loved one.
Staff Abuse of Elderly Patients is Shockingly Common
Unfortunately, it is commonplace for elderly individuals living in nursing homes to experience some form of abuse. In fact, a national study found that "nearly 1 in 3 nursing homes were cited for violations of federal standards that had potential to cause harm or that had caused actual harm," reported the National Center on Elder Abuse.
The consistency of elder abuse cases in care facilities is a systemic problem in West Virginia and across the nation that needs to be addressed and fought. Abusive nursing home staff should be fired and prosecuted, however, it can be challenging to know when abuse is taking place.
While elder abuse happens frequently, a shocking amount of cases go unreported due to the physical and mental limitations of many of those affected. In other words, elderly individuals are not always capable of warning someone that they're being mistreated.
In order for the appropriate measures to be taken against abusive staff, such as Mr. Wheeler, it is crucial for you to be aware of the risks your elderly loved one faces if they reside in a nursing home.
What Types of Abuse are Occurring?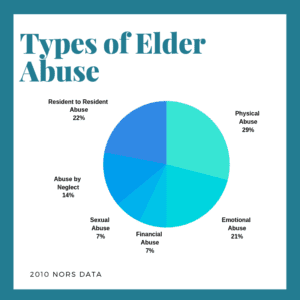 The National Center on Elder Abuse has highlighted the most common types of abuse that occur in nursing homes and their frequency. As shown above, 29% of all complaints reported were of physical abuse. While physical signs of abuse tend to be clear, other forms of elder abuse and neglect can be difficult to identify. For this reason, it's important to understand the different types of nursing home abuse, so you can be on the lookout for signs of mistreatment in any form.
Physical Abuse
Anything that includes the intentional infliction of physical harm on an elderly individual, such as hitting, biting, scratching, or shoving. The use of unnecessary restraints can also be defined as physical abuse.
Emotional Abuse
While signs of emotional abuse tend to be less obvious than physical mistreatment, it can be just as damaging to an elderly person. Emotional or psychological abuse includes any purposeful actions that cause anxiety, fear, humiliation, or any other harmful mental state.
Financial Exploitation
Elderly citizens are often targets of financial exploitation or fraud. Many times, caregivers have easy access to their patient's financial information and personal property. Manipulation, intimidation or theft of a resident's bank account or other personal information is considered financial exploitation of an elder.
Sexual Abuse
Nursing home residents completely rely on staff members to care for them. While it is unthinkable, elders can be sexually abused, especially since they are often too weak to refuse or fight back. Sexual abuse can include any non-consensual acts or inappropriate verbal communication.
Abuse by Neglect
When nursing home staff fail to provide the level of care and attention required, it can cause elderly patients to suffer severe injuries or even death. While a staff member may not be intentionally harming a resident, neglecting basic responsibilities such as hygiene, nutrition, and administering medication, is considered a dangerous form of abuse.
Resident to Resident Abuse
While staff abuse of elderly nursing home patients is a known problem, a recent study shows that violence between residents is also an issue that needs to be addressed. "About one in five have experienced verbal or physical mistreatment from other residents," Dr. Mark Lachs, head of the Center for Aging Research and Clinical Care, told CBS News.
It's vital that you visit and speak with your loved one on a regular basis, in order to monitor their environment and any changes in their health or mental state. Awareness is the first step toward preventing elder neglect and abuse.
Preventing the Problem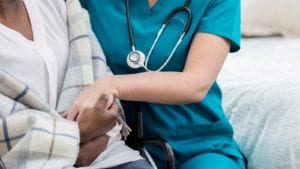 While further studies and research likely need to be conducted to find the best solutions, preventing elder abuse can start by improving or eradicating poor practices in nursing homes that often lead to abuse. These can include inadequate hiring, insufficient training, overcrowding facilities, and low sanitation standards.
Additionally, updating the environment of care facilities to ensure it's safe and clean for elderly residents can help prevent abuse or neglect from happening.
How Can You Take Action?
If you have witnessed any signs or symptoms of abuse or neglect in your loved one's care facility, please speak out. Long-term care facilities are legally required to implement a level of care that "promotes and enhances the quality of life" of their residents. When they fail to do so, legal action can be taken.
You should always contact 911 if you believe an elder's life is in immediate danger due to the actions of a negligent facility. A complaint can be filed with the facility itself, but you should also consider consulting an experienced elder abuse attorney. They can review the details of your situation and ensure the appropriate legal steps are taken.
West Virginia Attorneys Fighting for the Elderly
With over 120 years of combined experience, Stewart Bell, PLLC has the experience and resources to help those affected by elder abuse get the compensation they need to move forward. We're dedicated to fighting for the legal rights of our elderly citizens and aggressively representing their interests against the unacceptable actions of negligent care facilities.
Nursing home employees suspected of disrespecting or harming elderly residents, such as Mr. Wheeler, should be thoroughly investigated and held responsible, if found guilty. Call our law office today at (304) 345-1700 or fill out our free consultation form to speak with a Huntington nursing home abuse lawyer. We serve injured individuals and their families in Huntington and across the state of West Virginia.